Directed by Ron Howard
Visual Effects Supervisor: Robert Legato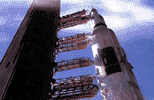 Visual Effects Produced by:

DIGITAL DOMAIN

Nominee, 1995 Academy Award / Best Visual Effects
Digital Domain created spectacular composites for APOLLO 13 utilizing a great combination of miniature models and CG elements. DD's proprietary motion tracking system worked like a charm for the awesome shot of NASA's gantry with the Apollo 13 spacecraft inside. As for the film, I was surprised it was nominated for Best Picture... I mean, the film was really cheesy, a style Ron Howard has developed over the years (BACKDRAFT, FAR AND AWAY). Easily, the best space effects since RETURN OF THE JEDI. See Cinefex 63 and American Cinematographer June '95.


. . VFX HQ Produced by Todd Vaziri . . http://www.vfxhq.com . . e-mail: tvaziri@gmail.com . .
All text Copyright © 1998 Todd Vaziri, unless otherwise noted