Directed by Joel Schumacher
Visual Effects Supervisor: John Dykstra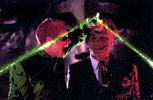 Visual Effects Produced by:

RICK BAKER/CINOVATION STUDIO
THE CHANDLER GROUP
COMPOSITE IMAGE SYSTEMS
GRANT MCCUNE DESIGN
METROLIGHT STUDIOS
PACIFIC DATA IMAGES
PACIFIC TITLE DIGITAL
THE POST GROUP / THE DIGITAL FILM GROUP
PRIVATE GARDENS
RHYTHM & HUES STUDIOS
VIFX / VIDEO IMAGE
WARNER BROS. IMAGING TECHNOLOGY
THE DIGITAL LAB
ILLUSION ARTS
OCS
FREEZE FRAME / PIXEL MAGIC
PACIFIC OCEAN POST DIGITAL FILM

Much like WATERWORLD, the question was not "Which effects house worked on BATMAN FOREVER?" it was "Which effects house didn't work on BATMAN FOREVER?" The effects work was supervised by effects veteran John Dykstra, who succeeded in giving the world of Batman a much needed dimension: color. I am not much of a fan of the first two BATMAN films (nor their effects), but Dykstra and director Joel Schumacher's intention was to create a living, moving comic book. It worked. Check out Cinefex 63, and American Cinematographer July '95.
Back to the 1995 Menu


. . VFX HQ Produced by Todd Vaziri . . http://www.vfxhq.com . . e-mail: tvaziri@gmail.com . .
All text Copyright © 1998 Todd Vaziri, unless otherwise noted