Directed by John Woo
Visual Effects Supervisor: Peter T. Crosman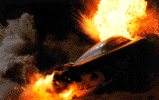 Visual Effects Produced by:

V I F X / VIDEO IMAGE
THE CHANDLER GROUP
CINESITE
MATTE WORLD DIGITAL
METROLIGHT STUDIOS
PACIFIC DATA IMAGES
PACIFIC TITLE DIGITAL
PACIFIC OCEAN POST

A competent action film (although nothing like John Woo's earlier work), BROKEN ARROW used a variety of techniques to portray the fictional B-3 fighter. The underground nuclear blast was very pretty to look at (large scale CG explosions are becoming a visual effects cliche, with TRUE LIES, BROKEN ARROW, OUTBREAK and others). The finale's train sequence features many splendid invisible effects.
Check out Cinefex 64 and American Cinematographer April '96.
Back to the 1996 Menu


. . VFX HQ Produced by Todd Vaziri . . http://www.vfxhq.com . . e-mail: tvaziri@gmail.com . .
All text Copyright © 1998 Todd Vaziri, unless otherwise noted