Directed by Chuck Russell
Visual Effects Supervisor: John E. Sullivan

Visual Effects Produced by:

WARNER DIGITAL STUDIOS
INDUSTRIAL LIGHT & MAGIC
MASS.ILLUSION
PACIFIC TITLE DIGITAL
CIS HOLLYWOOD
PACIFIC DATA IMAGES
ILLUSION ARTS
METROLIGHT STUDIOS

Arnold Schwarzenegger stars in his latest big-budget action film as a federal agent assigned to protect witness Vanessa Williams. The effects in this film are top-notch, highlighted by some great composites provided by Mass.Illusion in the aerial sequence. Schwarzenegger hangs off the edge of a jet, flies out, and catches his parachute. The scene ends with the plane flying straight into Schwarzenegger's path. The animation of the plane, smoke and debris is crisp and realistic.
ILM provided the film with CG crocodiles that attack both the good and bad guys. The models look terrific, but some of the animation was too quick and hyperkinetic. The composites for the crocodile scene were very sharp.
The film's big prop is a new weapon that fires projectiles at "nearly the speed of light". The smoke trails were composited quite nicely, and the interaction with the real world was animated quite well. There certainly are a few goofy shots, such as a few process shots during the final fight scene between Schwarzenegger and Caan.
As for the film, all I can say is if you're a huge Schwarzenegger fan, or are in the mood for big special effects, see it. If not, forget it. The pacing, the characters and the plot all have a lot to be desired.
Check out American Cinematographer July '96.
Official Web Site: http://www.movies.warnerbros.com/eraser.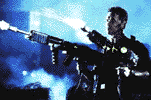 . . VFX HQ Produced by Todd Vaziri . . http://www.vfxhq.com . . e-mail: tvaziri@gmail.com . .
All text Copyright © 1998 Todd Vaziri, unless otherwise noted