Directed by Brian DePalma
Visual Effects Supervisor: John Knoll

Visual Effects Produced by:

INDUSTRIAL LIGHT & MAGIC (~150 shots)
COMPUTER FILM COMPANY
CINESITE EUROPE

ILM provided the majority of the effects shots for Brian DePalma's gripping espionage thriller. The final fifteen minutes of the film are simply extraordinary, courtesy of ILM's stunning work.
Visual effects supervisor John Knoll led the ILM team through MISSION's unique challenges, including creating nearly complete virtual environments while retaining all the realism of a practically shot sequence. Fantastic chase sequences like the Truck Chase in RAIDERS OF THE LOST ARK or any chase scene from T2 rely heavily on movement and action--the imposing vehicles, the shaky camera, and the death-defying stunts. Knoll (who also supervised STAR TREK GENERATIONS as well as many sequences from the STAR WARS SPECIAL EDITION) guided the ILM team to meet the enormous challenge. IMF Agent Ethan Hunt (Tom Cruise) has tracked Jim Phelps (Jon Voight) to the TVG bullet train, where Phelps attempts to escape via a following helicopter.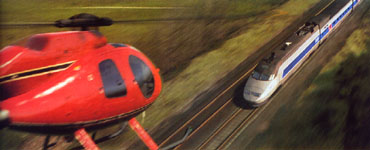 ILM created a completely computer generated TVG train and helicopter.
Effects supervisor John Knoll and his team also composited Tom Cruise and
Jon Voight, who performed in a bluescreen studio.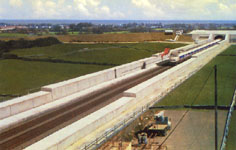 For this shot, ILM digitally painted the tunnel entrance, and composited
the CG train and helicopter against the plate photography, shot in Scotland.
The climactic end sequence sequence has three major parts: the outdoor approach, the tunnel chase, and the explosion. The outdoor shots were enormous challenges, in that background plates would be composited with a completely CG helicopter and bullet train, while bluescreen elements of Tom Cruise and John Voight would also be composited on top of the CG train. The tunnel shots were comprised of the CG chopper and train, along with a miniature tunnel, made by the ILM model shop. Finally the explosion sequence utilized numerous miniature helicopters.

The explosion shots were created
with the use of eighth scale miniatures
of the helicopter and tunnel.


The miniature helicopter was
created by the ILM model shop, and
blown up by pyro expert Geoff Heron.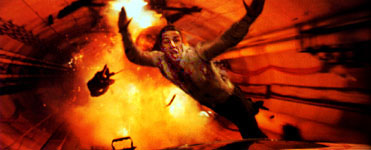 For this dramatic shot, Cruise was hung in the air and flown toward
the camera at a steady rate. Interactive lights flickered during the bluescreen
photography to match the tunnel lights zipping by the character.
Through each major section, compositing was crisp and nearly undetectable. Realism was absolutely integral to the scene's success, and the compositing team of ILM came through with flying colors.
Movies have certainly entered the era of 'virtual backlots' with MISSION. Never before has a sequence been so invisible--while being filled with dozens of composites.
Check out Cinefex 67 and American Cinematographer June '96 and December '96.
Official Web Site: http://www.missionimpossible.com.



. . VFX HQ Produced by Todd Vaziri . . http://www.vfxhq.com . . e-mail: tvaziri@gmail.com . .
All text Copyright © 1998 Todd Vaziri, unless otherwise noted