THE ENTERPRISE-E
The film opens with an absolutely incredible shot. It begins on Captain Picard's eye, and dollys backward to reveal the enormous expanse of a Borg ship. This shot is destined to be a classic opening sequence--not only for its technical brilliance but for its amazing use of texture and color. It also was a part of the visual effects team's attempt to give these massive ships a sense of scale. With this remarkable shot, we finally can see just how huge the Borg ships actually are. The single shot was designed by Syd Dutton, Robert Stromberg and Mike Wassell at Illusion Arts, and was completed with live action shooting and an immense amount of computer generated imagery provided by Illusion Arts.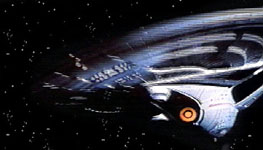 Presenting the brand new flagship of
the Federation, the Enterprise-E.

SHOT PRODUCED BY INDUSTRIAL LIGHT & MAGIC
The new Enterprise-E, whose design was headed up by production designer Herman Zimmerman, is absolutely gorgeous, combining the styles of the original Enterprise and "The Next Generation's" Enterprise-D. The streamlined, sleek design of the Enterprise looks very nice onscreen. Both a computer generated model and a miniature model were built--John Goodson supervised the ILM model shop in creating a 10 foot miniature.
The first shot of E is a wonderful, 600 frame long shot of the ship coming about and cruising toward the camera. The motion-control shot model was composited into a CG nebula background.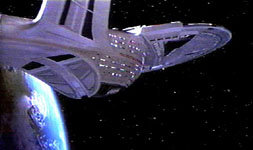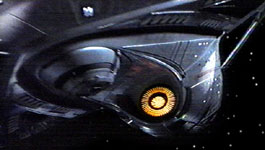 SHOTS PRODUCED BY INDUSTRIAL LIGHT & MAGIC


Borg Battle
is next...





. . VFX HQ Produced by Todd Vaziri . . http://www.vfxhq.com . . e-mail: tvaziri@gmail.com . .
All text Copyright © 1998 Todd Vaziri, unless otherwise noted