ABOARD NCC-1701-E
Probably the single most spectacular shot of the film is ILM's reveal of the Borg Queen, played by Alice Krige. Similar to their work on the Oscar-winning, DEATH BECOMES HER, ILM used a number of clever techniques to achieve the shot. The Borg Queen's head, shoulders and exposed spinal column is lowered from the ceiling into an awaiting Borg body.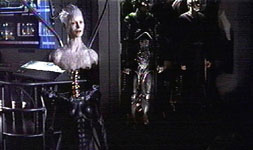 The Borg Queen is lowered into her body in the
most dramatic effects shot in the film.

SHOT PRODUCED BY INDUSTRIAL LIGHT & MAGIC
The shot is worthy of study, due to its seamlessness. Krige was fitted with a prosthetic shoulders and spine, while the rest of her body was angled and covered with bluescreen material. She was lowered on the stage in a motion control rig, then completed the shot in full costume. The transition was handled by ILM with incredible morphing and 3D animation, with the empty Borg suit fashioned in CG. The shot was simply stunning.
POP handled phaser blasts and lens flares for the film,
as well as the Borg-vision shots and numerous wire-
removal shots for the show.

SHOTS PRODUCED BY PACIFIC OCEAN POST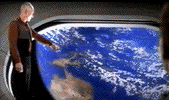 Picard opens up a port on the belly of the
Enterprise and points to Australia
in this composite by Pacific Ocean Post.

SHOT PRODUCED BY PACIFIC OCEAN POST
Return to STAR TREK: FIRST CONTACT





. . VFX HQ Produced by Todd Vaziri . . http://www.vfxhq.com . . e-mail: tvaziri@gmail.com . .
All text Copyright © 1998 Todd Vaziri, unless otherwise noted