Directed by Michael Ritchie
Visual Effects Supervisor: Tim Healey

Visual Effects Produced by:

MATTE WORLD DIGITAL, Supervisor: Craig Barron

PACIFIC DATA IMAGES

VISIONART

BLUE SKY STUDIOS

PACIFIC OCEAN POST

Martin Short, Mara Wilson and Kathleen Turner star in this effects-filled children's film.
IMAGE PRODUCED BY MATTE WORLD DIGITAL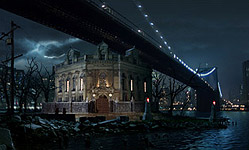 Matte World Digital created this composite with a digital matte painting of the New York skyline and bridge, and added animated lightning and water. The house was shot on location in Toronto.
Official Web Site: http://www.simplewish.com
Back to the 1997 Menu


. . VFX HQ Produced by Todd Vaziri . . http://www.vfxhq.com . . e-mail: tvaziri@gmail.com . .
All text Copyright © 1998 Todd Vaziri, unless otherwise noted