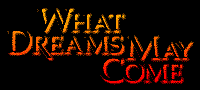 Directed by Vincent Ward
VFX Production Supervisor: Ellen Somers
VFX Line Producer: Denise Davis

Visual Effects Produced by:

MASS.ILLUSIONS
VFX Supervisors: Joel Hynek and Nick Brooks
VFX Producer: Donna Langston
Lead Software Developer: Pierre Jasmin
CG Supervisor: Mike Schmitt
Compositing Supervisor: Mark Nettleton

in collaboration with
MOBILITY
GIANT KILLER ROBOTS
SHADOWCASTER

POP FILM
VFX Supervisor: Stuart Robertson
VFX Producer: Andrea D'Amico
Digital FX Supervisors: Lawrence Littleton
and Kenneth Littleton
Senior Matte Artist: Deak Ferrand
Matte Painting Supervisor: Rocco Gioffre
Senior CG Artist: Yannick Dusseault

DIGITAL DOMAIN
VFX Supervisor: Kevin Mack
VFX Producer: Dean A. Wright
Compositing Supervisor: Carey G. Villegas
Lead Compositor: Claas Henke
Digital Matte Supervisor: Martha "Snow" Mack

CIS HOLLYWOOD
VFX Supervisor: Dr. Ken Jones
VFX Producer: Patti Kuwaye Mauck
Executive Producer: C. Marie Davis

RADIUM

ILLUSION ARTS

Models by CINEMA PRODUCTION SERVICES
Supervisor: Michael Joyce
Cinematographer: Garry Waller

Additional Matte Paintings by Michael Lloyd

Location and Stage Motion Control Provided by GENERAL LIFT
Supervisor: Joe Lewis




Robin Williams and Oscar-winner Cuba Gooding Jr. star in Vincent Ward's new film, WHAT DREAMS MAY COME. Effects houses Mass.Illusions, POP and Digital Domain helped created the many hundreds of digital effects in the film.
Mass.Illusions, in collaboration with Giant Killer Robots, Mobility and Shadowcaster handled the remarkable 'painted world' afterlife, a world in which the environment is a constantly changing impressionist painting. POP handled numerous composites, including 'Leona's world' and the densely complicated 'library' sequence. Digital Domain took care of various sequences, including the 'painted tree' sequence, and the ghostly image of Cuba Gooding Jr.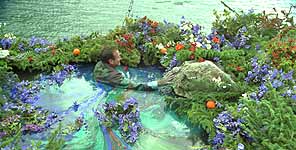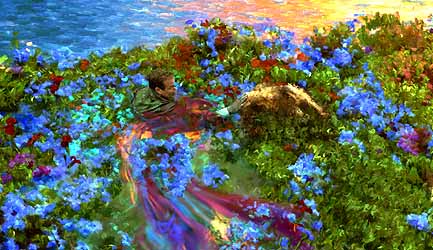 Mass.Illusions, in collaboration with Giant Killer Robots, Mobility and Shadowcaster created the beautiful afterlife, dubbed the 'painted world;' since Robin Williams' character is a fan of impressionistic paintings, he imagines an afterlife created by brushstrokes. Plates were photographed at the Montana National Glacier Park with very little motion control and greenscreens. With Williams isolated from the frame, the backgrounds were warped and manipulated to give the impression of a painter's brush creating the world. To learn more about the film's visual effects, read the VFXPro interview with Ellen Somers, the film's visual effects supervisor.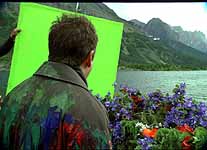 Back to the 1998 Menu


. . VFX HQ Produced by Todd Vaziri . . http://www.vfxhq.com . . e-mail: tvaziri@gmail.com . .
All text Copyright © 1998 Todd Vaziri, unless otherwise noted