Directed by Ron Underwood


Visual Effects Produced by:

DREAM QUEST IMAGES
VFX Supervisor: Hoyt Yeatman

INDUSTRIAL LIGHT & MAGIC
VFX Supervisor: Jim Mitchell

MATTE WORLD DIGITAL
VFX Supervisor: Craig Barron

COMPUTER FILM COMPANY

RE:SOURCES

CINOVATION STUDIOS

For full credits, click here.

Bill Paxton stars in MIGHTY JOE YOUNG, Ron Underwood's latest project. The remake of the 1949 film features live-action creature effects from Rick Baker's Cinovation Studios, fresh off of their enormous duties on 1997's MEN IN BLACK, with CG creature duties handled by Dream Quest and ILM.
Dream Quest, under the supervision of veteran Hoyt Yeatman, oversaw the entire effects effort, from shooting to post-production. The massive gorilla was achieved via a number of means. For some shots, Rick Baker's full scale robotic Joe was used. For others, the most advanced use of forced-perspective techniques were used with a man in a Joe suit. Traditional forced-perspective photography, in which a character or object is placed in the extreme foreground, close to the camera (to simulate a massive scale), has previously been relegated to static camera shots. Through the use of extensively calculated motion control techniques, Dream Quest accomplished moving camera forced-perspective shots, with foreground elements shot bluescreen. To simulate a larger scale, the foreground Joe was commonly photographed at a higher frame rate than the background.
For shots where the action was simply too complicated to be handled by the full size or 'miniature' Joe, Dream Quest and ILM teamed up to create a fully computer generated Joe. MIGHTY JOE YOUNG features some of the most advanced character animation and computer generated hair ever made.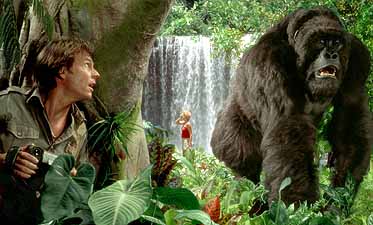 The above Dream Quest shot is a complicated forced-perspective shot, featuring the Rick Baker Joe costume, performed by John Alexander. As the gorilla element was photographed at a faster frame rate than the extreme foregound (Bill Paxton) and the extreme background (Charlize Theron), Paxton and the gorilla were shot against a bluescreen. Below is one of Dream Quest Images' remarkable CG Joe shots. The animators timed Joe's movements to mimic the live-action Mercedes being crushed.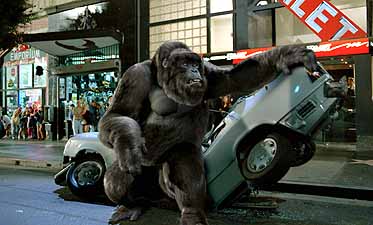 VFX Pro has conducted a series of extensive interviews with key people in the visual effects crews of MIGHTY JOE YOUNG, including DQ VFX supervisor Hoyt Yeatman, DQ's digital effects supervisor Dan DeLeeuw, DQ's animation supervisor Chris Bailey, and Industrial Light & Magic's animation supervisor Daniel Jeannette.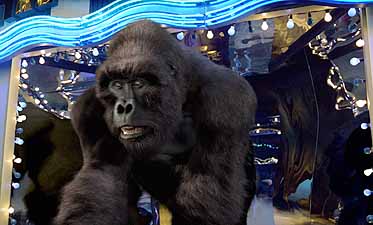 Two more of Dream Quest's CG Joe shots. In all, Dream Quest completed 35 all-CG Joe shots, while ILM completed 18.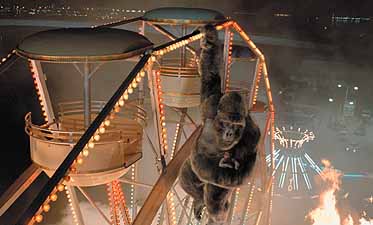 Check out Cinefex 76.
Official Web Site: http://www.disney.com
Back to the 1998 Menu


. . VFX HQ Produced by Todd Vaziri . . http://www.vfxhq.com . . e-mail: tvaziri@gmail.com . .
All text Copyright © 1998 Todd Vaziri, unless otherwise noted