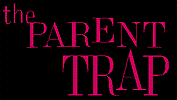 Directed by Nancy Meyers
Visual Effects Consultant: Jim Rygiel

Visual Effects Produced by:

CIS HOLLYWOOD

RHYTHM & HUES STUDIOS

[credits not complete]


Lindsay Lohan In THE PARENT TRAP, Walt Disney's summer family entry, many dozens of seamless, invisible effects were utilized to 'clone' actress Linsday Lohan. The young actress portrayed both parts of the twins for the film, and shots where both of their faces were visible required extensive planning and precise execution during photography, as well as seamless and crisp compositing in the post production stage.
Rhythm & Hues provided the film's CG creature animation--a tiny lizard that crawls its way into Dennis Quaid's fiance's mouth.
Back to the 1998 Menu


. . VFX HQ Produced by Todd Vaziri . . http://www.vfxhq.com . . e-mail: tvaziri@gmail.com . .
All text Copyright © 1998 Todd Vaziri, unless otherwise noted