Spotlight : November 1997
---

The Boss Closeout
By Todd Vaziri
Here are some exclusive pictures of the recent Boss Film Studios auction, where a great deal of Boss' technological assets were auctioned to the public. Everything from SGIs, Macs, optical printers and model miniatures, even office furniture, were auctioned to eager participants.
Thanks go out to Eric Swenson, who took these photos and submitted them to the VFX HQ.
Photos by Eric Swenson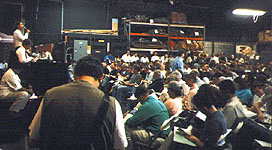 The bidding floor, where Boss' assets were auctioned off in October, 1997.
Photos by Eric Swenson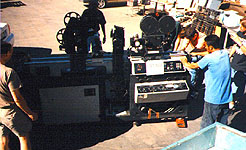 A sad sight, indeed. The optical printer is wheeled out of the Boss Film Studios facility.
Back to more Boss Shuts Down articles...
---
Back to the Spotlight Main Menu


. . VFX HQ Produced by Todd Vaziri . . http://www.vfxhq.com . . e-mail: tvaziri@gmail.com . .
All text Copyright © 1998 Todd Vaziri, unless otherwise noted