Spotlight : April 1998
---

PDI Back In Features
By Todd Vaziri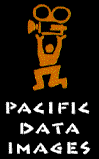 Pacific Data Images is one of the oldest and most prestigious of California's effects houses, and provided hefty visual effects shots in the early 80's to such films as TERMINATOR 2, HEART & SOULS, and plenty of others. Since their work on 1994's TRUE LIES, they have shifted focus on their animation department, with the culmination of their efforts resulting in their first animated feature film, ANTZ, produced by their new partner Dreamworks. Since that time, their feature work has been light, highlighted by their work in the most recent BATMAN films, BROKEN ARROW and THE PEACEMAKER.
Over the past few months, PDI has been strengthening its feature film department, and has announced that the animation and film/commercial units will be dedicated entities, an announcement that will undoubtedly allow PDI's talents to once again frequently grace the silver screen.
PDI PRESS RELEASE

PALO ALTO, CA Pacific Data Images (PDI), a leading high-end digital effects and animation studio, is back in action with a fully dedicated Commercial and Feature Effects Division. The fast-growing operation, structured as a stand-alone creative animation boutique, features an extraordinary team of directors, designers, animators and producers, recruited from the ranks of the industry's best and brightest. The service division's sister unit is the PDI Feature Animation Division, exclusively dedicated to content development and production.

"Our focus for the last several months has been the development of our Commercial and Feature Effects Division as a one-stop creative animation shop that provides A-list problem-solving talent to ad agencies and entertainment clients," commented PDI president Carl Rosendahl. "After taking a brief hiatus from our 18-year commercial-animation history to embark on ANTZ our first feature-length animated co-production with DreamWorks we have re-engineered and expanded our resources to provide our ad agency clients with dedicated services. We've already hit the ground running with a range of new commercial projects, including Jet-Dry, Gatorade and Circle K, among others currently in production. "

Cindy Cosenzo, PDI Senior Producer/Commercials, added, "Our group mission is to build on PDI's reputation as a high-end 3D character animation and effects studio, and to focus on adding creative value to everything we touch in the pitch and in production. We have been expanding our art and story departments, teaming with a variety of art directors, designers, illustrators, and storyboard artists."

"The directors and animators in our group embrace project diversity and a stylistic mix of commercials," Cosenzo continued. "They love the challenge of solving demanding production approaches, and having to respond quickly on each project with new creative solutions. We have the remarkable advantage of full use of the proprietary software arsenal developed by the Feature Animation Division. Access to this exceptional Research & Development resource allows us to come up with techniques that can shave months from a production schedule and create firsts for the commercial industry."

PDI (Pacific Data Images) is an award-winning producer of high-end animation and visual effects for the commercial and entertainment industries. PDI has a co-production pact with DreamWorks SKG to create original, computer-animated feature films. Currently in production on its first of several full-length computer animated features, ANTZ, PDI is also poised to begin production on a second feature film, SHREK. Established in 1980, the studio has created visual effects and animation for over 800 commercials and feature films. The Academy of Motion Picture Arts and Sciences recently recognized PDI with a Technical Achievement Award for the concept and architecture of the studio's significant creative and technical achievements in the computer animation industry. PDI is located in Northern California and employs nearly 250 people.
---
Back to the Spotlight Main Menu


. . VFX HQ Produced by Todd Vaziri . . http://www.vfxhq.com . . e-mail: tvaziri@gmail.com . .
All text Copyright © 1998 Todd Vaziri, unless otherwise noted