Directed by Rob Cohen
Visual Effects Supervisor: Scott Farrar

Visual Effects Produced by:

INDUSTRIAL LIGHT & MAGIC
GRANT MCCUNE DESIGN
ILLUSION ARTS
PACIFIC OCEAN POST
VISIONART
METROLIGHT STUDIOS

Sylvester Stallone stars as a reluctant hero in DAYLIGHT, Universal's holiday action entry, directed by DRAGONHEART's Rob Cohen. Industrial Light & Magic, led by Scott Farrar, created numerous effects for the film, including two spectacular sequences of destruction. Unfortunately, the film does not rise to the quality of its effects.
In an underwater tunnel that connects New York City and New Jersey, a huge explosion rumbles ruptures the tunnel, instantly enveloping the tunnel with fire. The wave of fire that flows through the length of the tunnel looks spectacular. A few miniature shots that contained real fire elements didn't scale very well, but the majority of shots were great. Composites were crisp, with very few defects--particularly effective was the use of camera shake and blur.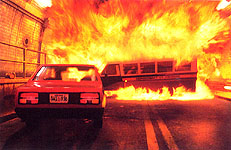 Industrial Light & Magic composited fire elements shot on stage and digitally composited them into full-scale background plates for the explosion sequence, as well as using miniature sets.

Illusion Arts provided a number of fine digital matte painting shots to DAYLIGHT.

ILM's work continued into the climax of the film, as Stallone and a survivor initially feel the shocking impact of the "blowout-effect." Much like the organic, natural-looking tornadoes ILM created for TWISTER, ILM's water and mud animation is very convincing and attractive. There were a few shots, however, that were technically well done, but looked silly on screen. The initial shot of the sequence was awesome, while the rest of them seemed inappropriate and unintentially funny.

The physical effects were supervised by Kit West, and his usual brilliance was brought to the production. Also created for the film was a cool opening title sequence produced by Pacific Ocean Post, as well as a few matte paintings provided by Illusion Arts.

As of late, Stallone seems to be attracted to effects films--this is his third effects film in three years, including CLIFFHANGER (which featured fantastic effects by Boss Film Studios) and JUDGE DREDD. Sadly, his streak of making bad films also is extended. At times, DAYLIGHT is laughably poor. Unintended laughs echoed through the movie theatre during sometimes sloppy scenes, shallow peformances, and goofy character moments. Unless you really want to see more of ILM's visual effects work, you might as well skip DAYLIGHT.

Check out Cinefex 68.

Official Web Site: http://www.mca.com/universal_pictures.







Back to the 1996 Menu


. . VFX HQ Produced by Todd Vaziri . . http://www.vfxhq.com . . e-mail: tvaziri@gmail.com . .
All text Copyright © 1998 Todd Vaziri, unless otherwise noted