Directed by Michael Bay
Visual Effects Supervisor Hoyt Yeatman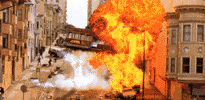 Visual Effects Produced by:

DREAM QUEST IMAGES

An engaging action flick starring Sean Connery, Nicolas Cage and Ed Harris, THE ROCK featured visual effects provided by Dream Quest Images. The majority of the effects take place at the end of the film, where a team of fighter jets close in on Alcatraz with the intent on completely destroying it. There are plenty of shots featuring the jets approaching the prison island, all composites by DQI.
DQI also added extra fire to the cable car explosion at the close of the dramatic car chase through the streets of San Francisco.

A team of fighters approach Alcatraz
and fly underneath the Golden Gate.

Agent Goodspeed tries to signal
the approaching jet fighters.


One of the fighters accidentally fires a missile,
destroying part of the prison island.
Check out American Cinematographer June '96.

Official Web Site: http://www.movies.com.
Back to the 1996 Menu


. . VFX HQ Produced by Todd Vaziri . . http://www.vfxhq.com . . e-mail: tvaziri@gmail.com . .
All text Copyright © 1998 Todd Vaziri, unless otherwise noted