Directed by Brad Silberling
Visual Effects Supervisor: John Nelson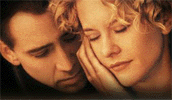 Visual Effects Produced by:

SONY PICTURES IMAGEWORKS
VFX Producers: Robin Griffan and Julia Rivas
CG Supervisor: John McLaughlin
SPI's Full Credits


Physical Effects Supervisor: David Blitstein

Meg Ryan and Nicolas Cage star in CITY OF ANGELS, a love story about a doctor who falls in love with and angel. Sony Pictures Imageworks provided about 70 visual effects shots to the film, including extensive bluescreen composites, massive color correction, even invisible performance enhancement. Many of their shots are invisible in nature, especially the the extensive color correction necessary for the sunset and sunrise sequences.
Back to the 1998 Menu


. . VFX HQ Produced by Todd Vaziri . . http://www.vfxhq.com . . e-mail: tvaziri@gmail.com . .
All text Copyright © 1998 Todd Vaziri, unless otherwise noted