Directed by Gary Ross
Visual Effects Supervisor: Chris Watts

Visual Effects Produced by:

PLEASANTVILLE EFFECTS

CINESITE

COMPUTER FILM COMPANY

COMPOUND EYE

PLANET BLUE



Joan Allen and Reese Witherspoon star in this touching drama about a group of teens who get sucked into their favorite 1950's television show. The film features some 1700 digital effects shots, the most ever for a feature film. The vast majority of the film's effects surrounded the selective desaturation of the color film, representing the growth of the characters within the black and white environment.
To learn more about the film's effects, read the VFXPro interview with supervisor Chris Watts, who also supervised 1997's GATTACA.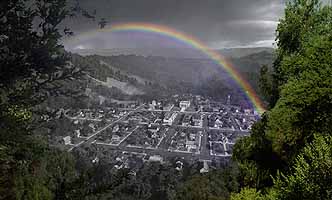 Compound Eye, under the supervision of Mark Sullivan, created this composite--a high angle view of the transforming town of Pleasantville.
Back to the 1998 Menu


. . VFX HQ Produced by Todd Vaziri . . http://www.vfxhq.com . . e-mail: tvaziri@gmail.com . .
All text Copyright © 1998 Todd Vaziri, unless otherwise noted