Directed by Paul Anderson
Visual Effects Supervisor: Ed Jones

Visual Effects Produced by:

RHYTHM & HUES STUDIOS

MATTE WORLD DIGITAL
Visual Effects Supervisor: Craig Barron

RAINMAKER

BANNED FROM THE RANCH ENTERTAINMENT
Visual Effects Supervisor: Van Ling

POP FILM

PACIFIC TITLE/MIRAGE

Miniatures by Mike Joyce, CINEMA PRODUCTION SERVICES
Miniature Directors of Photography: Dave Stump, Tom Shaughnessy

Live Action Motion Control Equipment by: GENERAL LIFT
Miniature Motion Control by MCRS / Dave Stump
Kurt Russell stars in this futuristic thriller as a soldier who becomes obsolete, and gets dumped onto a garbage planet, and is forced to survive.
SOLDIER images ©1998 Warner Bros.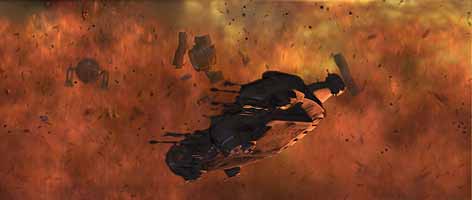 Rhythm & Hues provided numerous visual effects shots to SOLDIER, including all of the dust-storm and spaceship effects for the film. As the garbage planet is detonated by a 'planet-killer' bomb, Rhythm & Hues created the explosion, debris, and spaceship element.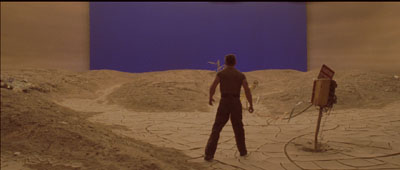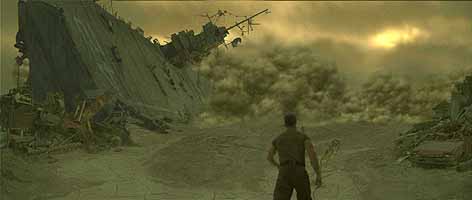 This remarkable shot is actually the result of a collaboration between Rhythm & Hues and Matte World Digital. Kurt Russell was photographed against a bluescreen, and Matte World created the world around him with a combination of computer generated elements, miniatures by Mike Joyce, and real-world sky elements. Rhythm & Hues then created the oncoming dust storm using CG particle effects. Below is another of Rhythm & Hues' dust shots--a night shot of the dust cloud overtaking the bad guys.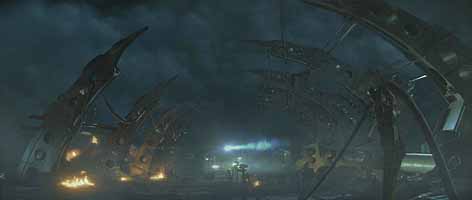 Back to the 1998 Menu


. . VFX HQ Produced by Todd Vaziri . . http://www.vfxhq.com . . e-mail: tvaziri@gmail.com . .
All text Copyright © 1998 Todd Vaziri, unless otherwise noted