Directed by Tim Burton

Visual Effects Produced by
INDUSTRIAL LIGHT & MAGIC (~300 shots)
WARNER DIGITAL STUDIO (~150 shots)

Special Physical Effects by
Michael Lantieri

Alien Design by
McKinnon and Saunders

On-Set Aliens Constructed by
Global Effects
---
MARS ATTACKS! is the latest directorial effort from Tim Burton, the man who brought us BATMAN and EDWARD SCISSORHANDS. Small alien craft from the red planet approach Earth and decide to cause mass destruction across the land, especially in Washington and Las Vegas. To create the visual imagery for the film, Burton enlisted Industrial Light & Magic (ILM) and Warner Digital Studios (WDS).

MARS ATTACKS! represents yet another triumph for ILM's character animation department, and also earns Warner Digital a great deal of respect for their contibutions to the film.

Learn more about each effects houses' contributions to
MARS ATTACKS! by clicking one of their names below.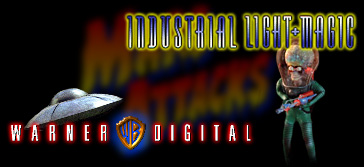 ---
Check out Cinefex 68 and American Cinematographer December '96.
Official Web Site: http://www.marsattacks.com
Back to the 1996 Menu


. . VFX HQ Produced by Todd Vaziri . . http://www.vfxhq.com . . e-mail: tvaziri@gmail.com . .
All text Copyright © 1998 Todd Vaziri, unless otherwise noted