Directed by Harold Ramis
Visual Effects Supervisor: Richard Edlund
Director of Photography: Laszlo Kovacs
Digital Effects Supervisor: Brian Samuels
Real-Time Compositing Process Developed by:
Gautham Krishnamurti, Shahril Ibrahim and Hiro Miyoshi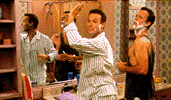 Visual Effects Produced by:

BOSS FILM STUDIOS

Michael Keaton stars as a man who doesn't have enough hours in the day. In order to succeed at his job and keep things at home in order, he makes multiple clones of himself. In a summer of big-time visual effects films like INDEPENDENCE DAY, TWISTER and DRAGONHEART, it is certainly refreshing to see a visual effects film that excels if the effects are invisible.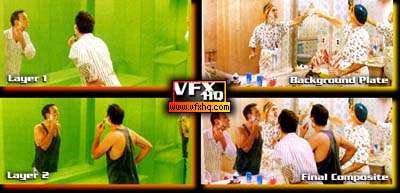 This graphic illustrates the enormous amount of planning and experitise necessary
to execute MULTIPLICITY's visual effects. Attention to lighting and shadows was
integral to the process.
Directed by Harold Ramis (GROUNDHOG DAY) and the legendary Richard Edlund at Boss Film Studios supervising the effects, MULTIPLICITY features some of the best split-screen shots ever filmed. The invisible visual effects of the film were created by many methods, including traditional soft-splits, greenscreen elements, and digital manipulation. Interaction between the clones helps sell the effect, with clones tossing objects to one another, giving each other high-fives, and even chesting each other.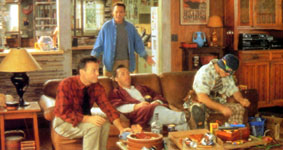 The visual effects unit invaded the first unit during the production of MULTIPLICITY as Michael
Keaton performed entire sequences as all four characters. Clever use of greenscreen
flags allowed Boss to composite incredible shots like this one. On-the-set video and audio
composites were created between takes to help Keaton with his timing.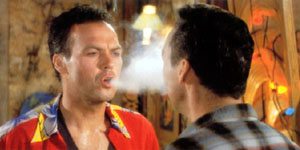 Keaton would regularly interact with a stand-in or a video camera for the "A" side of a shot,
and then for the "B" side, he would watch his previous performance on a tiny color monitor
positioned exactly where his "A" character was situated.
Keaton's performance for split-screen shots filmed with a motion control camera was greatly enhanced by the on-set compositing system developed by Boss Film Studio's Gautham Krishnamurti, Shahril Ibrahim and Hiro Miyoshi. The system was integral for determining eye-lines and blocking, as well as helping Keaton perfect his timing.
Check out Cinefex 67 and American Cinematographer July '96.
Back to the 1996 Menu


. . VFX HQ Produced by Todd Vaziri . . http://www.vfxhq.com . . e-mail: tvaziri@gmail.com . .
All text Copyright © 1998 Todd Vaziri, unless otherwise noted