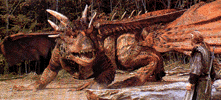 (tie)
DRAGONHEART
Industrial Light & Magic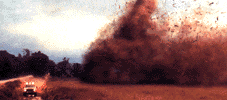 (tie)
TWISTER
Industrial Light & Magic

I simply couldn't choose between these two films for excellence in their use of CGI. On one hand, DRAGONHEART produced something the effects industry has been trying to perfect since CG's inception--a fully expressive performer that could act alongside human characters. On the other hand, TWISTER utilized CGI to create the most realistic atmospheric visual effects ever created for film. Extensive and creative use of particle systems like Wavefront's Dynamation allowed artists to produce the stunning tornado sequences.


Honorable Mentions:
THE FRIGHTENERS (Weta Ltd.)
MISSION: IMPOSSIBLE (ILM)
MARS ATTACKS! (ILM and Warner Digital)
THE ARRIVAL (Pacific Data Images)
---


SPACE JAM
Visual Effects Supervised by Ed Jones (Cinesite)

The Cinesite compositing crew extracted mattes from hundreds of greenscreen shots to create the film's dazzling composites.

Honorable Mentions:
MISSION: IMPOSSIBLE (ILM)
THE NUTTY PROFESSOR (Computer Film Company)
---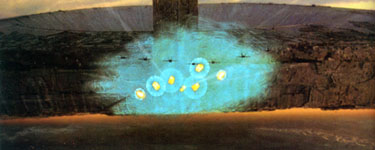 INDEPENDENCE DAY
Alien Shields (VisionArt)

The shimmering blue-green shield effect was supervised by VisionArt's Carl Hooper, and the resulting effects are mystifying and gorgeous. Not quite a liquid, not quite a solid, the interference pattern occured when F-18's fired their missiles at the alien Destroyers and Attackers. Shield interference patterns have been done many times before, most notably in the recent STAR TREK films, but never before has the animation been this attractive.

Honorable Mentions:
THE FRIGHTENERS, Wallpaper Man (Weta Ltd.)
THE ARRIVAL, Alien Imploder (Available Light Ltd.)
---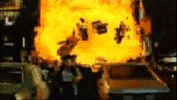 INDEPENDENCE DAY
The Destruction

Excellent miniature pyrotechnics, CG imagery and plenty of innovative and creative uses of traditional effects creation were used in creating this historic sequences. No particularly groundbreaking technique was used to create the sequence--but the shots cut together wonderfully.

Honorable Mentions:
TWISTER, Waterspout Sequence (ILM)
MISSION: IMPOSSIBLE, Train/Helicopter Chase (ILM)
---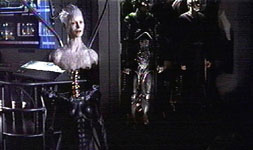 STAR TREK: FIRST CONTACT
Borg Queen Reveal (ILM)

ILM used a motion contol camera and clever staging techniques, along with some fantastic animation and morphing make this shot one of the best introductions of a villain ever recorded on film.

Honorable Mentions:
THE ROCK, Alcatraz Getting Bombed (Dream Quest Images)
INDEPENDENCE DAY, The White House getting nuked (Viskocil Effects, Pacific Ocean Post)
STAR TREK: FIRST CONTACT, The dazzling opening shot (Matte World Digital, Illusion Arts, ILM)
---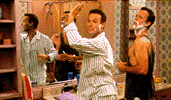 MULTIPLICITY
Boss Film Studios

Richard Edlund supervised the ultimate 'clone' film, producing up to four Michael Keatons in a single shot, with amazingly invisible results. Combine a great performance by Keaton, massive amounts of preproduction, careful staging and crisp compositing by Boss Film Studios, and you come up with some remarkable effects sequences.

Honorable Mention:
THE NUTTY PROFESSOR (Computer Film Company)
---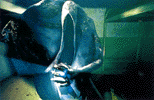 THE FRIGHTENERS
Weta Ltd.

Over 500 shots completed entirely in New Zealand, Peter Jackson's upstart Weta Ltd. executed hundreds of motion control shots, bluescreen composites, and CG imagery with the skill and accuracy of a 10 year veteran house.
---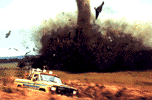 TWISTER

Not only did the film contain some of the most dazzling CG imagery ever put to film, it also featured some of the finest compositing Industrial Light & Magic has ever accomplished--each shot of a tornado through the windshield of a car featured perfectly married elements. CG elements always seemed to actually exist in front of the camera, no matter how much the camera was shaking.

Honorable Mentions:
INDEPENDENCE DAY
THE FRIGHTENERS
DRAGONHEART
MISSION: IMPOSSIBLE
---

Stuart Baird's exciting film contained dozens of top-notch, quality visual effects, including some incredible in-flight shots of a stealth bomber docking with a 747, and some fantastic compositing of bluescreened interior windows.