Directed by Michael Bay
Visual Effects Supervisors: Pat McClung and Richard Hoover
Visual Effects Produced by:

ARMAGEDDON FX
Compositing Supervisor: Adam Howard

DREAM QUEST IMAGES
VFX Producer: Rae Griffith-Gagnon
VFX Supervisor (Paris destruction): Hoyt Yeatman

BLUE SKY|VIFX

COMPUTER FILM COMPANY
VFX Supervisor: Rob Hodgson

TIPPETT STUDIO
VFX Supervisor: Bruce Nicholson

POP FILM

DIGITAL MAGIC

DIGITAL DOMAIN
VFX Supervisor: Erik Nash

MATTE WORLD DIGITAL
VFX Supervisor: Craig Barron

COMPUTER CAFE

CINESITE

EDITEL

RAINMAKER

VOODOO

PACIFIC TITLE/MIRAGE

525 POST PRODUCTION

Miniatures Created by
ARMAGEDDON FX
VISION CREW UNLIMITED
HUNTER-GRATZNER INDUSTRIES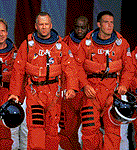 Probably the summer's biggest effects film is the $170 million ARMAGEDDON, the new Jerry Bruckheimer film starring Bruce Willis as a drilling specialist sent to space to destroy an oncoming asteroid headed to earth. The duo that supervised/produced CHAIN REACTION and DANTE'S PEAK for Digital Domain, Pat McClung and Thom Randmaa are helmed the visual effects, with miniatures built, shot and composited by an in-house team (ARMAGEDDON FX), led by compositing supervisor Adam Howard.
A great deal of Hollywood's finest houses contributed to ARMAGEDDON, including Dream Quest Images, supervised by Richard Hoover and Hoyt Yeatman (who oversaw the Paris destruction shot); Digital Magic (who composited the New York destruction sequence), Digital Domain (Shanghai destruction), Blue Sky|VIFX (the film's opening shot), and many, many more.
Learn more about the effects by visiting the ARMAGEDDON pages on VFX HQ:


Check out Cinefex 75.
Official Web Site: http://www.movies.com




Back to the 1998 Menu


. . VFX HQ Produced by Todd Vaziri . . http://www.vfxhq.com . . e-mail: tvaziri@gmail.com . .
All text Copyright © 1998 Todd Vaziri, unless otherwise noted