Jump to PART TWO Of The Interview
In late 1996, along with director Roland Emmerich and producer Bill Fay, Patrick Tatopoulos traveled to Tokyo for a crucial meeting with Toho Studios officials. What he revealed to the 30 executives, in drawing and sculpture form, left the room in complete silence. The American-based filmmakers were instructed to return the next day without a hint of the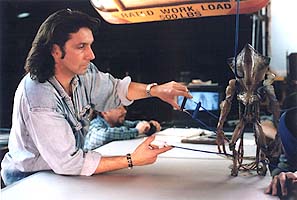 Patrick Tatopoulos prepares an alien rod puppet for INDEPENDENCE DAY.

legendary Japanese monster makers' reaction to what they had just been shown. The following day, Tatopoulos was informed that even though his concepts were very different from what had been expected, they captured the essence of the original 1954 character. As such, the group was given immediate approval to proceed with their 1990s version of the project. In fact, Toho was honored that Emmerich's Centropolis production company was carrying on the fabled tradition of the king of all monsters, Godzilla.

Patrick Tatopoulos' path to that meeting was anything but orthodox. Born and raised in France, where he raced motorcycles, worked in 2-D advertising and drew comic book covers, Tatopoulos lived in Greece for ten years before coming to the United States in 1989. In Greece, while working as an artist in commercials, he was continually fascinated by creatures and special effects, but not ever to the point where he wanted to become a special effects artist. "Then in 1988, I saw an American magazine with photos of sculptures from SOMETHING WICKED THIS WAY COMES, and I went crazy," he remembered. "I decided to buy some clay, and for about a month, at night, I would sculpt creatures, never having tried it before. Later, I painted and photographed twelve pieces that took about three months to create." His endeavors prompted a seven-day trip to Los Angeles, seeking an assessment of his abilities.

The first creature-based shop to give Tatopoulos a chance to meet with them was John Fifer and Makeup Effects Lab. "John was very nice and gave me a tour of the shop; I was very impressed," he noted. "John felt that I was very creative, but that I needed to enhance my sculptures with more detail. I went back to Greece, but got a call from MEL a month later: they wanted to hire me and help me get my green card. I moved to California and worked for John, Allan Apone and Doug White at MEL for four years." After he had assisted on a variety of small projects, MEL asked Tatopoulos to sculpt a human heart for CHUD 2. This quickly led to more sculpting jobs, including a creature for a 'Star Trek' TV episode, a simple hand puppet with mechanical jaws created by Tim Huchtausen. "It was very exciting since it was my first TV creation," Tatopoulos recalled of that period.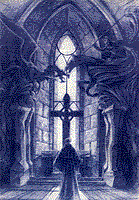 One of Tatopoulos's designs for BRAM STOKER'S DRACULA.

After 3 1/2 years with MEL, Tatopoulos reached another goal when he was asked to art direct BEASTMASTER 2 after doing a witch suit design for the show. "Using my experience in comics, where I developed settings as much as characters, I designed some gothic and medieval settings in the tone of Frank Franzetta," he commented. "At that point, I discovered that I enjoyed designing sets as much as characters."

The inevitable followed as Tatopoulos separated from MEL when he was contacted to design the main street sets and characters for SUPER MARIO BROS. "I was the conceptual designer, but the producers additionally asked me to create the characters. I called upon MEL and people who I met there, including Mark Maitre, Dave Nelson, and Rob Burman." Of this time, Burman noted that Tatopoulos' versatility was shining through. "Patrick had pretty much designed everything and we worked from his drawings. Also, he sculpted several really dynamic pieces. He's an incredible artist, just amazing."

Following SUPER MARIO BROS., Tatopoulos assisted the design of props, costumes, and sets for BRAM STOKER'S DRACULA, designed conceptual icebergs for DEMOLITION MAN, and worked on concepts for LAST ACTION HERO. 2-D artist Oliver Scholl, who had the same agent as Tatopoulos, suggested that he meet Roland Emmerich after the director had finished UNIVERSAL SOLDIER. "When I showed him my designs from DRACULA," Tatopoulos recalled, "Roland asked me to help design sets and the warrior characters for STARGATE. Over a three-day period, I created one sketch per character, each in one day, and he approved all of my designs on the spot. Roland and I understand each other; we are in the same realm of imagination."






---
Back to the Spotlight Main Menu


. . VFX HQ Produced by Todd Vaziri . . http://www.vfxhq.com . . e-mail: tvaziri@gmail.com . .
All text Copyright © 1998 Todd Vaziri, unless otherwise noted