Spotlight : June 1998
---
STARGATE, Tatopoulos used Egyptian themes with a Japanese samurai influence, but created all of the characters from scratch, including Jay Davison's character of Rah. "Basically, I open books every day of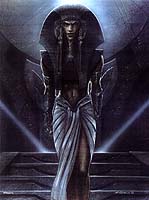 A Tatopoulos designs STARGATE's Rah.

my life, but when I need to design something, I close all the books," he explained. "If I have 20 books open in front of me for references, I get lost."

Another breakthrough occurred after Tatopoulos had finished STARGATE's character and creatures designs. "Roland asked if I could then build the creatures, which became my first experience setting up my own shop," he reflected. "I found a large space in North Hollywood that I shared with Greg Jein who was creating the models. 45 people worked in the shop with me coordinating the creatures, including Russell Shenkle, the mechanical shop head. He became my right hand on the show and really made things happen."

A giant cow character, the Mastage, was the among Tatopoulos most challenging STARGATE creations. Rather than doing a full mechanical creature or stop-motion puppet, Tatopoulos felt that he should use affix a dummy neck and mechanical head to a real horse. "Whatever natural movements the horse made would be translated to the character," he described. "We built seven of them, and three are used in the background, but due to the length of the movie, the featured shots of the Mastages were cut out, including a scene of two people riding one at top speed." STARGATE put Emmerich and writer-producer Dean Devlin on the map, but it would take one more project to accentuate Tatopoulos' creature supervision talents. "People started to hear about me and my design work, but even when STARGATE came out, I was still an unknown," he said.

Subsequently, after not having seen Emmerich for about eight months, Tatopoulos would be called for his biggest assignment yet. He was contacted to supervise creature effects and, with Oliver Scholl, production design INDEPENDENCE DAY. Unlike any project on which he had previously worked, ID4 would warrant a unique division of his responsibilities. "Over the 18 months I spent on ID4, 60% of my day was spent on production design, working with the art department on sets and spacecraft," he revealed. "Scholl and I worked with each other on all of the designs, so the project was a true team effort. I organized the show similarly to STARGATE, in that I supervised all of my creature designs and had a crew of 30 manufacturing them in a new shop that I set up."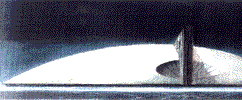 A rendering of Tatopoulos's design for the massive spacecraft from INDEPENDENCE DAY.

Tatopoulos sought to establish his own continuity for the alien designs in ID4. "I tried to avoid a H.R. Giger look; I wanted the aliens to look like locusts with a reminiscence of a human. They were designed as living exoskeletons, like an oyster, with the pearl, or small alien, inside." Seven tall creatures, each used for different functions, were built in Tatopoulos' shop. One was a head that split and opened for scenes in the lab at Area 51. Another was worn by a suit performer, and there were open and closed versions for the creature with the baby alien inside it, all with mechanics designed and built by Guy Himber. In addition to his production duties, Tatopoulos spent the film's post-production period supervising the CGI and design aspects in all spacecraft model photography.

Even before ID4, Tatopoulos had started to create the conceptual looks for director Alex Proyas' DARK CITY. When ID4 was complete, he spent four months designing sets and working on the Australian production. "Alex' vision represents exactly what I like to design in terms of its dark classically- gothic tone," he stated. While he was in Australia, Time magazine ran a story on ID4, featuring the tall alien on the cover, an unprecedented event in the history of creature design. "When I finally left Australia, the excitement over the film was dying down in the U.S., so aside from the premiere, I didn't really live the hype," Tatopoulos recalled about ID4's stunning box office success. "I felt lucky to be part of such a big phenomenon, but it's hard for me to believe that I was responsible for it. That was due to Roland and Dean - they really know what works in a movie."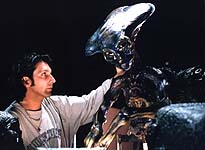 Tatopoulos prepares one of INDEPENDENCE DAY's animatronic aliens for shooting.

At the conclusion of ID4, before he had started Dark City, Emmerich offered Tatopoulos the biggest opportunity of his life - in every implied sense. He wanted the artist to re-design the character of GODZILLA for a big-budget re- make. "My first reaction was disappointment that I didn't get to production design the whole movie," Tatopoulos recalled, "but Roland allowed me to change the character as much as I wanted - a Godzilla for the 1990s. We didn't want another man in a rubber suit, and that was the way that I approached it."

After some struggles with early designs, Tatopoulos created a sketch in two hours that became the final look of the new character. By the time he flew to Europe to show the sketch to Emmerich, Tatopoulos could tell that the director was thinking of dropping the project. "However, when he and Dean Devlin saw my sketch, they got interested in the project again," Tatopoulos observed. "It was very exciting since I had a chance to create the title character for the film. I went back to the U.S. to create three more drawings and a maquette of the character." This legendary material was ultimately presented at the Toho meeting, initiating pre-production on the current Godzilla film.

Tatopoulos exhibits a healthy combination of optimism and practicality about his future. "I know that I am only as good as my last movie and that I have been very lucky," he noted. "I want to keep progressing and not lose the excitement with what I am doing." Though he has been integral to sculpting and producing creatures for his films, Tatopoulos is unabashed about his creative preferences. "Designing a character is the only aspect of the process I always want to be involved in," he remarked. "I will never hire a conceptual artist; if I cannot create the look of a character, I'm not going to take a job. That's why I continue my relationship with Roland, even though I want to work with a variety of people, since he always gives me a chance to design."

Read PART TWO which takes a look at Tatopoulous' contributions to Roland Emmerich's GODZILLA.

All photographs and images courtesy of Patrick Tatopoulos
Extra special thanks to Cassandra Heredia at Tatopoulos Design

Scott Essman (sessman@ibm.mtsac.edu) is the author and creator of CREATURE PEOPLE, a book/video project about special makeup effects artists.



---
Back to the Spotlight Main Menu


. . VFX HQ Produced by Todd Vaziri . . http://www.vfxhq.com . . e-mail: tvaziri@gmail.com . .
All text Copyright © 1998 Todd Vaziri, unless otherwise noted