Home - Who - Review - How - Pics: Bugs, Space, More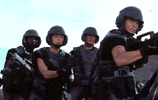 Visual Effects Produced by:

SONY PICTURES IMAGEWORKS
Senior VFX Supervisor: Scott Anderson
VFX Supervisor: Dan Radford
VFX Producers: George Merkert and Suzanne Pastor
VFX Art Director: Michael Scheffe
CG Supervisors: Louis Cetorelli, Walt Hyneman, Heather Davis, Chad Hammes Models by: Thunderstone
Model, Miniature and Pyro Prod. Mgr.: Don MacBain
VFX Directors of Photography: Alex Funke and Pete Kozachik
VFX Sequence Supervisor: Kelley Ray

TIPPETT STUDIO
Creature VFX Supervisor: Phil Tippett
Design VFX Supervisor: Craig Hayes
VFX Producer: Jules Roman
Character Animation Supervisor: Trey Stokes
Lead Animators: Blair Clark, Peter Konig, Adam Valdez


INDUSTRIAL LIGHT & MAGIC
ILM Supervisor: Scott Squires
VFX Supervisor: George Murphy
VFX Producer: Camille Pirolo Geier
Associate VFX Producer: Jill Brooks
VFX Art Director: Alex Jaeger
CG Supervisors: David Horsley and Tom Rosseter


BOSS FILM STUDIOS
Boss Film Supervisor: Jim Rygiel
VFX Supervisor: David M. Jones
Digital Effects Supervisor: Tom Dadras
Miniature Director of Photography: Garry Waller
Executive Producer: Michael Sweeney
VFX Producer: Gale Busby
Miniature Unit Producer: S. Paige Wilds


VCE (Visual Concept Entertainment)
VFX Producer: Peter Kuran
Administration: Jacqueline Zietlow
Digital Supervisor: Brian Griffin

BANNED FROM THE RANCH
VFX Supervisor: Van Ling
VFX Producer: Casey Cannon
Lead Digital Artist: Sage Greco

COMPOUND EYE
VFX Supervisor: Mark Sullivan
3D Matte Painting Animation: Rich Cohen
Matte Painting Model Supervisor: Nicholas Blake

VIDEO IMAGE
Supervisor: Scott Warner


POP FILM
VFX Producer: Andrea D'Amico
Digital Effects Supervisors: Ken Littleton, Lawrence Littleton


PACIFIC TITLE DIGITAL

MASS.ILLUSION
Physical effects veteran John Richardson helmed the film's special effects unit, while Kevin Yagher handled makeup and prosthetics for the film. Amalgamated Dynamics, under the supervision of Tom Woodruff and Alec Gillis, handled the animatronic beasts.

Home - Who - Review - How - Pics: Bugs, Space, More


. . VFX HQ Produced by Todd Vaziri . . http://www.vfxhq.com . . e-mail: tvaziri@gmail.com . .
All text Copyright © 1998 Todd Vaziri, unless otherwise noted