Directed by Paul Verhoeven

Home - Who - Review - How - Pics: Bugs, Space, More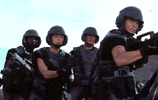 Nominated for eight 1997 VFX HQ Awards: Best Visual Effects, Best Sequence (Whisky Compound), Best Shot (Escape from Whisky Compound), Best CG Character Animation, Best Models/Miniatures, Best Miniature Pyrotechnics, Best Matte Paintings and Best Compositing, Winner of Best Miniature Pyrotechnics.
Nominee for the Academy Award for Best Visual Effects
Paul Verhoeven reteams with his ROBOCOP writers to bring us STARSHIP TROOPERS, the long-awaited sci-fi epic. The film stars relative unknowns, along with Michael Ironside and Neil Patrick Harris in this futuristic sci-fi extravanganza about a massive war between humans and some nasty bug aliens.
The coverage of STARSHIP TROOPERS is the largest of any other movie on the VFX HQ to date:
Official Web Site: http://www.starshiptroopers.com
Check out Cinefex 73 and American Cinematographer Nov. '97
All photos ©1997 TriStar Pictures.

Home - Who - Review - How - Pics: Bugs, Space, More


. . VFX HQ Produced by Todd Vaziri . . http://www.vfxhq.com . . e-mail: tvaziri@gmail.com . .
All text Copyright © 1998 Todd Vaziri, unless otherwise noted