Stills : More Stills
Page 1 | Page 2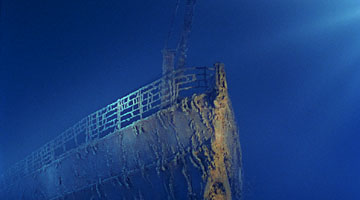 One of Digital Domain's miniature shots of the shipwreck, featuring CG railings created in Lightwave. Especially challenging for the DD team was matching the look of their miniature composites with actual wreckage footage, shot by Cameron during a series of deep sea dives to the wreck site. Miniature and real footage would be cut back-to-back in the final film.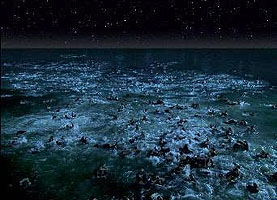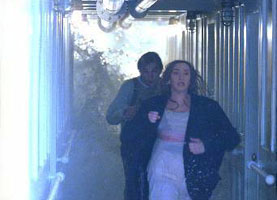 Two of POP Film's shots for TITANIC. In the top shot, the camera begins on a closeup of Rose (Kate Winslet) frantically looking for Jack. The camera cranes up and back to reveal hundreds of former passengers of Titanic in this incredible comp. POP Film only had footage of about fifty people swimming, which was cloned and meticulously match moved. The lower still is from POP Film's ambitious face replacement shot.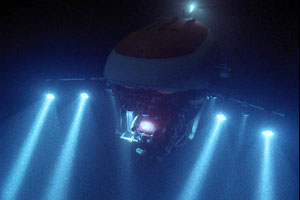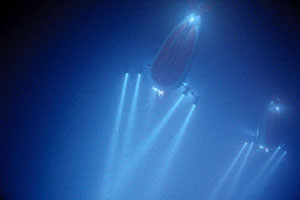 Digital Domain shot Mir1 and Mir2 as dry-for-wet miniatures in the film's opening shot, as the two submersibles drop to the bottom of the ocean. Emerging as small specks of blue, the subs pass the camera and descend into darkness. Banned From the Ranch composited the shot, and extended the subs' paths into infinity with 2D manipulation of the miniature passes.





Home - FX Credits - FX Review - Stills: Launch, At Sea, Tragedy, More
Back to the 1997 Menu


. . VFX HQ Produced by Todd Vaziri . . http://www.vfxhq.com . . e-mail: tvaziri@gmail.com . .
All text Copyright © 1998 Todd Vaziri, unless otherwise noted