Stills : More Stills
Page 1 | Page 2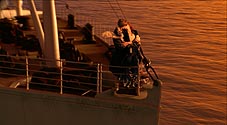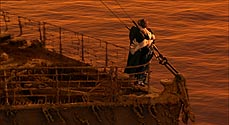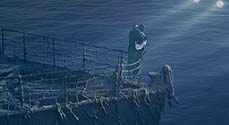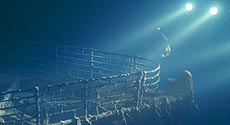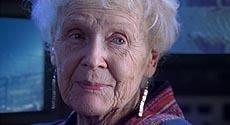 One of the film's extraordinary time transitions. Jack and Rose embrace at the front of the ship as the camera rotates around them. Rusticles appear on the railings, the lighting changes, Jack and Rose disappear, to finally reveal the sunken ship as the camera pulls out from a video monitor. The shot, produced by Digital Domain, is one of the most complex of the film, and features two separate miniatures shot as the same angle, digital water, greenscreen elements, as well as clever compositing to place the image in the video monitor.
This shot was the winner of the 1997 VFX HQ Award for Best Shot.


Home - FX Credits - FX Review - Stills: Launch, At Sea, Tragedy, More
Back to the 1997 Menu


. . VFX HQ Produced by Todd Vaziri . . http://www.vfxhq.com . . e-mail: tvaziri@gmail.com . .
All text Copyright © 1998 Todd Vaziri, unless otherwise noted