Stills : The Tragedy
Page 1 | Page 2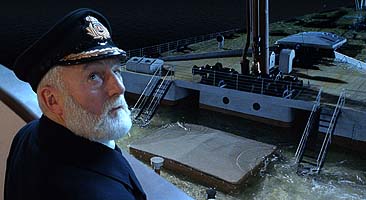 Digital Domain's fascinating shot of Captain Smith peering off the bridge, assessing the damage. The camera follows him to the ledge, pans left and right, then moves backwards as Smith looks up at an exploding flare. The flare brightens both the foreground and background elements--the foreground is a greenscreen element, while the background is a flooded 1/6 scale miniature.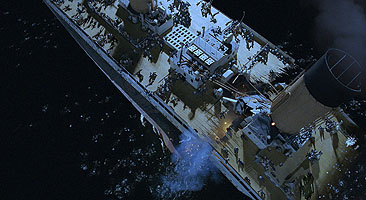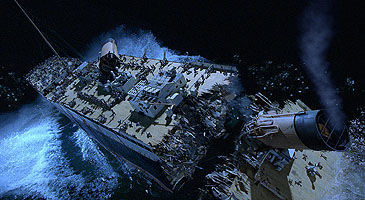 These Digital Domain frames are two shots of the incredible destruction sequence--as the bow becomes too heavy for the ship, the entire ship snaps from the decks to the keel. The 1/8 scale miniature was used for multiple takes on real water, to capture authentic splash elements. All of the passengers lining the decks of the ship are computer generated.


Home - FX Credits - FX Review - Stills: Launch, At Sea, Tragedy, More
Back to the 1997 Menu


. . VFX HQ Produced by Todd Vaziri . . http://www.vfxhq.com . . e-mail: tvaziri@gmail.com . .
All text Copyright © 1998 Todd Vaziri, unless otherwise noted