Spotlight : March 1998
---

March Effects Briefs
Edited by Todd Vaziri


BAFTA Announces Best Visual Effects Nominees
MARCH 14, 1998 The British Academy of Film and Television Arts (BAFTA) have unveiled their list of 1997 nominees for their Academy Awards.
Making the list are THE BORROWERS, THE FIFTH ELEMENT, MEN IN BLACK, and TITANIC. Interestingly, the only film to make both the BAFTA nominees list and the American Academy's list is TITANIC. THE BORROWERS, while released in the U.S. in 1998, enjoyed a 1997 release in Europe.
THE BORROWERS featured effects from The Magic Camera Company, Framestore, The Film Factory and The Moving Picture Company. THE FIFTH ELEMENT featured effects by Digital Domain, while MEN IN BLACK featured work from Industrial Light & Magic and Autumn Light, and Digital Domain, Blue Sky|VIFX, ILM and a host of other companies provided effects for TITANIC.
The winners will be announced April 19, 1998.
Learn more about the BAFTA Awards: http://www.bafta.org.
---

Intel Makes Discreet Deal
MARCH 7, 1998 Intel, the world's biggest PC chip maker, and Discreet Logic, provider of high-end SGI effects programs like Inferno and Flint, have agreed to work together to create a new visual effects program for Intel's new generation of processors.
The software will run on Intel's 64-bit processors, currently in production, and represents an attempt to bring real-time compositing and image processing power to PCs. Intel also invested $13.5 million into Discreet Logic. For more on the deal and the software agreement, go to Intel's web site.
---

HULK Is Dead
MARCH 2, 1998 One of 1999's most eagerly anticipated effects films just folded. Universal Pictures declared its big 1999 release, HULK, "indefinitely postponed," just a few weeks before production was to begin. Industrial Light & Magic was tapped to provide a computer generated Hulk creature, and had spent many months researching and developing the effects project. The film reportedly had a huge budget close to $100 million, and unsatisfactory script rewrites.
Some reports indicate that Univeral plans to award the entire effects duties of FLINTSTONES 2 to ILM, not only because of their preliminary work on HULK, but because of their success working together on 1995's THE FLINTSTONES.
---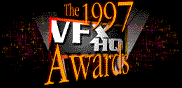 Winners Announced: 1997 VFX HQ Awards
MARCH 1, 1998 The winners of the ten categories in the 1997 VFX HQ Awards have been announced. For more information, click here.
---

Visual Effects Society Has New Home
FEBRUARY 28, 1998 The Visual Effects Society (VES), which recently opened up its Hall of Fame, has moved to its new home on the world wide web.
Check it out at http://www.visual-effects-society.org/. The site is maintained by VisualFX.com/Terrence Masson.
---

Musical Supervisors at Rhythm & Hues
FEBRUARY 28, 1998 After overseeing the visual effects for MOUSEHUNT, Academy Award winning supervisor Charles Gibson (BABE) left Rhythm & Hues Studios to go off on his own as a freelance supervisor. Recently announced is R&H's hiring of another Oscar-winner, Doug Smith, as senior visual effects supervisor for the facility. Smith won his Oscar for 1996's INDEPENDENCE DAY, and recently supervised Dream Quest's work on FLUBBER. Smith discussed his work on FLUBBER with VFX HQ for the FLUBBER: Behind The Scenes article.
Links: Rhythm & Hues, MOUSEHUNT, BABE, FLUBBER, INDEPENDENCE DAY, Dream Quest Images.
---
Back to the Spotlight Main Menu


. . VFX HQ Produced by Todd Vaziri . . http://www.vfxhq.com . . e-mail: tvaziri@gmail.com . .
All text Copyright © 1998 Todd Vaziri, unless otherwise noted